Kia ora knitters! You may have noticed some changes around the website, most notably on the landing page. After reflecting on this past year, I'm expanding my brand to include "mentorships" for aspiring designers, consults and collaborations for current designers, yarn makers and any other independent crafter or blogger. This came from my already one year experience of running this website and acting as mentor and resource to knitters needing advice. While I am still developing this program, this is my official announcement to the knitting community that I am available to help you on any topic that you need - just shoot me an email! As of now, this service is free so please feel free to take advantage of this opportunity!
As part of this expansion I'm also going to be making some changes to blog posts. Every week will feature a set type of posts. Motivational Mondays, which will feature some patterns from Ravelry that popped up over the weekend. I'll continue having a post dedicated to "Let's Chat" topics on Tuesday. Thursdays will be my biggest change: I'll be writing informative articles or tutorials about knitting, design or business acumen. Guest posts are very much welcome and encouraged! Other blog posts such as WIP Wednesday, FO Friday, sneak peak and pattern releases will be posted accordingly when they come up.
And I'll be making a few changes to my IG account to. FO Friday images from followers will be featured on my Facebook and Pinterest account. You may start seeing a shift in the type of content I share on IG but that will be a more gradual change.
And now that the big announcements are over, let's move onto... Maximizing Social Media Interaction (FB and IG).
I used to work as a PR manager intern pre- and post-college for a while for several different companies (each for about a term, the turnover rate was pretty high) but I think I've learnt the most about PR and marketing from running my own independent design brand and from mentors in the knitting community. After making some personal changes on how I use social media such as Facebook and Instagram, I'll be sharing some tips on how to get the most interaction from your followers, regardless of how big or small your following may be. Please note that these are just general guidelines and will not guarantee immediate success every time. It is still up to you to put the work and effort into it!
#1 Find When Your Followers are Most Active
Most people would assume that followers are the most active over the weekend, since they're not at work. This isn't always the case. Check out your Facebook Pages "Insight" tab to see when the majority of your followers are online and make posts around that day/time.
As you can see, my followers are most active on Tuesday, Wednesday, Thursday, and Friday either early in the morning or late in the evening, so I try to post my content accordingly. Sometimes I experiment to see what follower interaction during different hours (such as in the evening and during non-peak hours) and sometimes it works, other times it doesn't. Be sure to check on this tab often as your follower activity can shift and you will have to evaluate your scheduling times!
Instagram doesn't have such tools, but you can use Iconosquare.com to get a look into your insights. Iconosquare can tell you what day and what time your followers are more likely to be online.
#2 Facebook Prioritizes Original Content, Starting with Images
Don't post just text and links. While sharing posts from other pages is a nice gesture, it too won't reach a lot of people. What does? Original images. Facebook places high priority on original content so be sure to post your photos! Square images also fit better into the space so be sure to crop it. You can put your blurb in there as well, but put any links in the comments section. If you want to announce that you have a new blog post, use an image + text introduction as the status then put the link in the comments. You'll get better reach that way.
#3 Facebook Tip: Be Human and Personal
While I like to post nice, "professional" and clean photos, sometimes followers get intimidated or tired of it. They want to know that the person behind the screen is a fellow human being and not some robot. So I will post unedited photos of things that are happening around me (that are knitting related in someway) that is cute, funny or spur of the moment. Those images usually involve my kitten up to no good. And these posts usually get lots of likes and comments.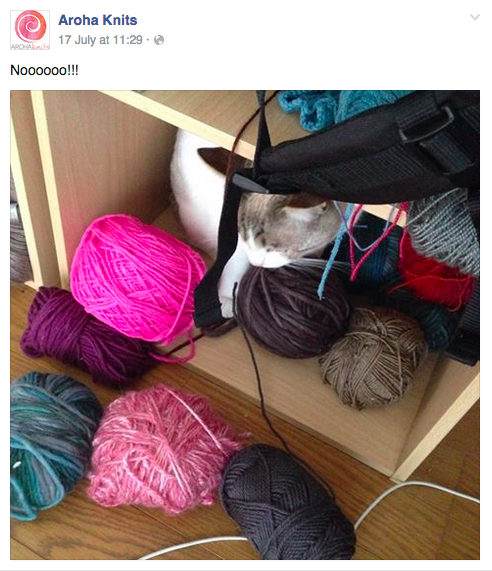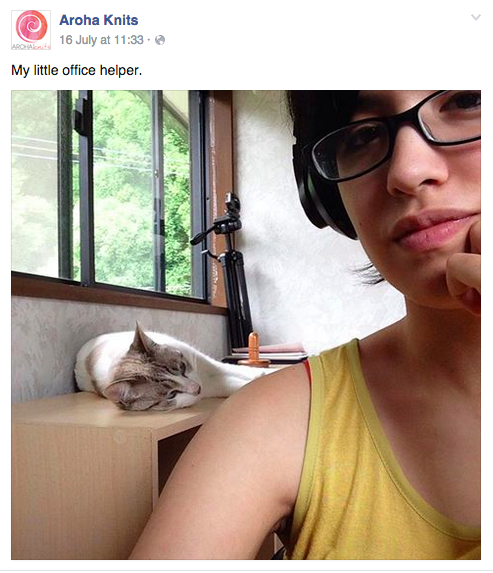 I find that my "personal" IG posts don't get as much likes in comparison to WIP, FO and yarn photos.
#4 Interact with your followers
In the image caption ask them questions. Encourage them to interact with you!
Every Wednesday I post a new topic in my Ravelry forum that people can join in on. I pose the same question on my FB and IG accounts so people can chime in and if they want to get entered into my Ravelry giveaways, they can do so if they wish. Reward that extra participation when you can!
Another type of interactive post that followers love is when you share their works. Every Friday I post an FO pic that a knitter has finished and present it to my followers with tons of praise. Even if their photography isn't the best, both they and your followers will still very much enjoy it.
#5 Experiment and Practice
I'm still learning how to use FB and IG to their fullest potential but the small changes I've made already have helped me see good results. Take risks, experiment a little, try new things. It can't hurt you and the results are worth it! One week I posted a variety of images and posts at different points of the day spanning the entire week to see which ones hit the most people. Was the high engagement due to a post that people just really liked? Or was it just the right time?
It should go without saying that good photos get high engagement so if you are struggling to take good photos, just practice, practice, practice. I'll be writing up some basic photography articles in the upcoming weeks to help you out!
If you want a more in-depth and one-on-one workshop on learning how to use Facebook Pages to its advantage, I highly recommend contacting Lucinda Iglesia of Mont-Tricot. She can provide workshops on this topic over Skype (that's where I learned a good amount of these tips) for a good price. Just send her a message if you're interested!